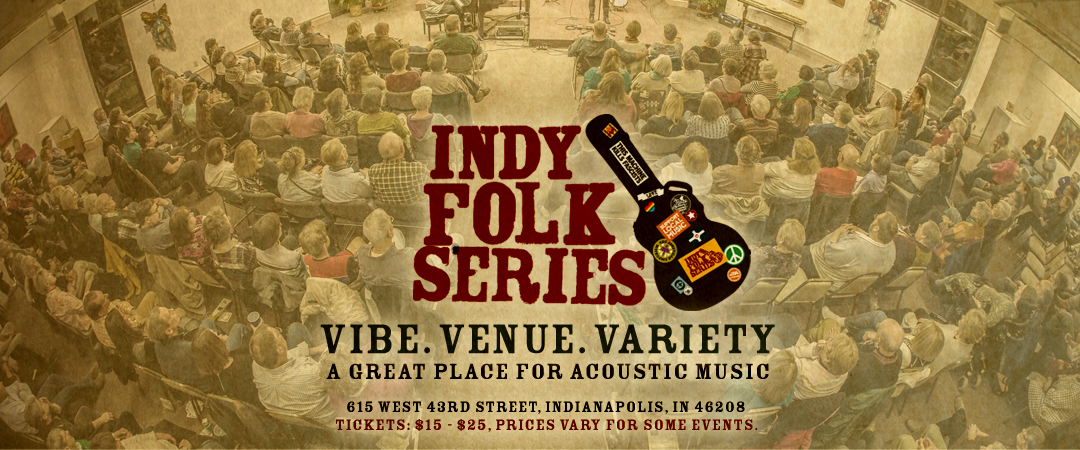 All remaining concerts for this season are cancelled
Friends,
We are living in extremely difficult times. 
With heavy hearts, the Indy Folk Series must cancel all remaining concerts for our 2019/2020 Season, in an effort to slow the spread of the COVID-19 outbreak.
The threat from this global pandemic is causing unprecedented changes to all our lives in ways we couldn't have imagined just a few months ago.  While everyone is struggling in different ways, those who make their full-time living as performers are now struggling financially, as their entire source of income has disappeared virtually overnight. 
That is why the Indy Folk Series has decided to "Pay it Forward" to the three acts who would have played our remaining concerts of the season, and provide them with compensation for the cancelled event.
Some of you may be wondering what you can do to help performing artists whose music brings us so much joy:
Support a virtual concert.  Many artists are live streaming concerts on YouTube, Facebook, Stage It, and various other online platforms.   You can attend a virtual concert, and support them via PayPal, or in some cases buy an online "ticket."  We'll share information about a few of those concerts on our Facebook page. 
Become a Patron of the Arts!  Many performers offer their fans a way to support them directly with monthly contribution, in any amount you chose, as part of their Patreon program.
Buy CDs or other merchandise directly from the performer's website: direct is always best!  
Contribute to an artist relief fund, such as the Arts Council of Indianapolis emergency relief fund for affiliated workers of all disciplines:  www.indykeepscreating.org.
And anything else you can think of!  
All those who purchased tickets in advance will receive a full refund, however please be aware that our ticket provider, Brown Paper Tickets, is overwhelmed with cancellations, this may take two weeks or more.
Finally, for those who purchased a 2019/2020 Flex Pass:  we know that you probably used very few of  your admissions, and we will gladly honor the 2019/2020 Flex Pass for future concerts, to be announced.
We will miss your smiling faces and we will miss the music. Stay safe until we meet again,
Your Indy Folk Series Board of Directors,
Joe Smiddie-Brush, President
Phil Slates, Vice President
Brenda Crowe, Secretary
Joanne Smiddie-Brush, Treasurer
Pam Greene
Carla Koertge Cote
Carla Slates
Karl Zemlin
About the Indy Folk Series
If you know the Indy Folk Series, you know it's special: a listening room venue where the audience is up close and personal; where the vibe is real and the sound is magnificent.
The Indy Folk Series is an all-ages listening room venue featuring superb acoustics, art on the walls, and candles on the tables. Concerts are held in the performance space at the Unitarian Universalist Church of Indianapolis, our home since the series was founded in 2001.